Education
International Scorecard: Are U.S. Kids Keeping Pace in Science?
By State of the USA
June 15, 2010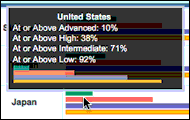 The Trends in International Mathematics and Science Study measures students' grasp of science concepts and skills in participating countries and jurisdictions. Assessments are administered every four years in the fourth and eighth grades.
Countries and jurisdictions that chose to participate in the 2007 TIMSS, the most recent assessment, are included below. Results are reported using four benchmarks -- advanced, high, intermediate and low. Compare percentages of students scoring at or above each benchmark for 2007.
Related: International Math Achievement
International Eighth-Grade
Science Achievment (2007)

dummy, doesn't publish
Country
or
Jurisdiction
% at or Above
Advanced

% at or Above
High
% at or Above
Intermediate
% at or Above
Low
x

11

Singapore
32
61
80
93

.9

x

6

Taiwan
25
60
83
95

.9

x

26

Japan
17

.9

55
85
96

.9

x

36

England
17
48
79
94
x

9

South Korea
17

.8

54
85

.9

97

.9

x

33

Hungary
13
46
80

.9

96
x

40

Czech Republic
11

.8

44
82
97

.8

x

10

Slovenia
11

.9

45

.9

81
97
x

15

Russia
11
41
76
95
x

33

Hong Kong
10

.9

45

.8

77
92

.9

x

1

United States
10
38
71

.9

92

.8

x

49

Armenia
8
23
55
83
x

48

Australia
8

.8

33
71
92
x

22

Lithuania
8

.9

36
72
93
x

8

Sweden
6
32
69
91
x

25

Jordan
5

.8

26

.8

56
79
x

18.9

Malta
5
21
48
71

.9

x

43.9

Bulgaria
5

.8

22

.8

51

.8

76

.9

x

18

Scotland
5

.9

26

.9

61
87

.9

x

28

Israel
5

.6

21
51
75
x

27.9

Italy
4
24
62
88
x

3

Turkey
3
16
40
71
x

2

Ukraine
3

.9

22

.9

58
85
x

5

Thailand
3

.7

17

.8

48

.9

80

.8

x

19

Malaysia
3

.8

18
50
80

.9

x

29

Iran
2
14

.8

41
76

.8

x

46

Bahrain
2

.8

17

.9

49
78
x

12

Serbia
2

.7

16

.9

51

.9

81
x

16

Romania
2

.6

16

.8

46
77

.9

x

18.5

Norway
2

.9

20
58

.9

87
x

45

Bosnia and Herzegovina
2

.5

14

.9

47
80
x

40

Cyprus
1

.9

12
42
74
x

17.1

Palestinian Authority
1

.7

9

.8

28
54
x

23

Lebanon
1

.5

8

.8

28

.8

55

.9

x

7

Syria
1

.8

9

.9

39
76
x

38.1

Egypt
1

.3

7
27
55

.8

x

18

Oman
1

.6

8

.9

32
61

.9

x

43

Colombia
1
4

.7

22
59
x

24

Kuwait
0

.9

6
28

.9

60
x

35.1

Georgia
0

.8

5
27

.8

61
x

31

Indonesia
0

.6

4

.8

27

.9

65
x

4

Tunisia
0

.8

4

.9

31
77
x

14

Saudi Arabia
0

.5

2

.9

18
52
x

17

Qatar
0

.3

2

.7

11
29
x

35

Ghana
0
1

.7

6
19
x

38

El Salvador
0

.1

1

.8

11

.9

42
x

44

Botswana
0

.4

2

.8

11

.8

35
x

50

Algeria
0

.2

1

.9

14
55
x

x

International Median
3
17
49
78
International Fourth-Grade
Science Achievment (2007)

dummy, doesn't publish
Country
or
Jurisdiction
% at or Above
Advanced

% at or Above
High
% at or Above
Intermediate
% at or Above
Low
x

10

Singapore
36
68
88

.8

96

.9

x

6

Taiwan
19
55

.8

86

.9

97

.9

x

12

Russia
16
49
82
96

.8

x

3

United States
15
47

.8

78

.9

94

.9

x

30

England
14
48
81
95

.9

x

27

Hong Kong
14

.9

55

.9

88

.9

98

.9

x

26

Hungary
13

.9

47

.7

78

.7

93

.9

x

23

Italy
13
44

.8

78

.8

94

.8

x

22

Japan
12

.9

51
86

.8

97

.8

x

37

Armenia
12
27
52

.8

77
x

9

Slovak Republic
11
42
75
92
x

36

Australia
10
41

.8

76

.7

93

.8

x

19

Latvia
10

.9

47

.9

84
98

.8

x

28

Germany
10

.7

41

.9

76

.8

94

.7

x
Kazakhstan
10

.8

44

.9

79

.8

95

.8

x

35

Austria
9
39
76

.6

93

.7

x

7

Sweden
8

.9

37
76

.9

95

.7

x

15

New Zealand
8
32
65

.8

87
x

33

Czech Republic
7
33
72

.8

93

.4

x

32

Denmark
7

.9

35
72

.9

93

.5

x

8

Slovenia
6
36
74

.8

93

.6

x

11

Scotland
4
26
65

.9

90
x

16

Neatherlands
4

.9

34
79

.9

97

.7

x

18

Lithuania
3
30
74

.9

95

.6

x

4

Ukraine
2

.9

17

.8

52

.9

82
x

24

Iran
2
12
36
65
x

14

Norway
1

.9

17

.9

54
84
x

34

Colombia
1

.8

6
22
51
x

29

Georgia
1
5
26
59
x

31

El Salvador
0

.9

4

.9

18
47
x

20

Kuwait
0

.8

4

.8

16
37
x

17

Morocco
0

.5

2

.8

9
21
x

38

Algeria
0

.6

2

.9

11
33
x

5

Tunisia
0

.7

3
14
32
x

13

Qatar
0

.3

2

.7

8
23
x

2

Yemen
0
0
2
8
x
International Median
7
34
74
93
Staff contributors: Michael Corones, Noah Goodman