Economy
Long-Term Unemployment Reaches New Heights
By Anthony Calabrese
July 28, 2010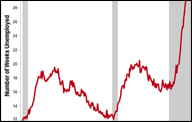 Long-term unemployment has risen to record highs during the recession, according to the latest data from the Bureau of Labor Statistics. In June, 6.8 million people were unemployed for 27 weeks or more -- that's 45 percent of the people the BLS counts as unemployed.
The length of time spent unemployed is increasing, as well. The average unemployed person has gone without work for more than eight months, according to seasonally adjusted data from the BLS.
Use the interactive graph below to analyze mean and median unemployment data through the seven U.S. recessions of the last 40 years.
Data Sources:
Bureau of Labor Statistics: The Employment Situation (June)
Employment Situation With Tables (PDF)
Historical Data from Table A-12 (Seasonally adjusted)
National Bureau of Economic Research: Business Cycle Expansions and Contractions
NBER Analysis of the 2007 Recession (PDF)
What Do You Think?
Share your thoughts in the comments section below or weigh in on Facebook or Twitter.
Data visualization by Anthony Calabrese, a State of the USA Web producer.