Education
Census Data Show Second-Generation Immigrants Learn, Earn More
October 21, 2010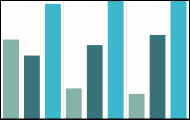 Second generation immigrants are better educated, earn more money and are less likely to be in poverty when compared with foreign-born immigrants, according to new 2009 data from the U.S. Census Bureau.
"What these data show is that, generally speaking, income and other measures of achievement, such as education, increase between first and second generation," said Elizabeth M. Grieco, chief of the Census Bureau's Foreign-Born Population Branch. "This suggests that the children of immigrants are continuing to assimilate over time as they have in past generations."
Use the interactive graph below to compare the educational attainment of different generations of immigrants:
Other highlights from the Census Bureau data release include:
There were 36.7 million foreign-born U.S. residents, and another 33 million native-born residents with at least one foreign-born parent in 2009.
Taken together, one in five people were either first- or second-generation U.S. residents.
Of those 15 years and older who worked full time and year-round, the second generation had higher median earnings ($42,297) in 2008 than the foreign-born population ($32,631).
The second generation had higher earnings; 42 percent of the second generation earned $50,000 or more, compared with 31 percent of the first generation.
The second generation was two percent less likely to be in poverty (16 percent) than the first generation (18 percent).
About the Data
The data are from the Current Population Survey Annual Social and Economic Supplement's report Foreign-Born Population of the United States: 2009.
The report provides a range of broad social and economic characteristics for the foreign-born population and the data represent the civilian non-institutionalized population, the Census Bureau said.
Read the press release: Nation's Foreign-Born Population Nears 37 Million
Download the data: Foreign-Born Population of the United States Current Population Survey - March 2009 Detailed Tables
What Do You Think?
Share your thoughts in the comments section below or weigh in on Facebook or Twitter.
Data visualization by Anthony Calabrese, a State of the USA Web producer.
BE A BETA TESTER
A 'beta,' or initial State of the USA website, is currently in development. To volunteer to participate in our future beta testing program, email us (with subject line: 'Beta Test'). All submissions are private. For questions, please use the feedback box below.

Support measuring national progress with a donation to State of the USA via PayPal.