Economy
Still In the Red: The Recession's Impact on Job Growth
August 18, 2010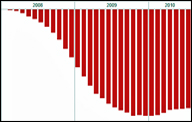 Despite four consecutive quarters of economic growth and 630,000 private sector jobs created this year, the U.S. is still more than seven million jobs in the red, according to data released by the Bureau of Labor Statistics.
The latest data show that:
Local governments cut 38,000 jobs in July, but lost 128,000 since the recession began.
State governments trimmed 10,000 jobs in July and lost just 6,000 jobs since December of 2007.
The federal government eliminated 154,000 jobs in July, but gained 262,000 jobs since the start of the recession.
Use the interactive chart below to look at job growth since the start of the recession in December 2007. How does this compare with over the month changes and long-term trends?
Data Sources:
Bureau of Labor Statistics:The Employment Situation (July)
The Employment Situation With Tables (PDF)
National Bureau of Economic Research: Business Cycle Expansions and Contractions
What Do You Think?
Share your thoughts in the comments section below or weigh in on Facebook or Twitter.
Data visualization by Anthony Calabrese, a State of the USA Web producer.
BE A BETA TESTER
A 'beta,' or initial State of the USA website, is currently in development. To volunteer to participate in our future beta testing program, email us (with subject line: 'Beta Test'). All submissions are private. For questions, please use the feedback box below.

Support measuring national progress with a donation to State of the USA via PayPal.